Thank you for participating in Global Action Week for Education (GAWE) 2022 📚
At the end of April, GCE-US joined Global Campaign for Education partners around the world to advocate for quality, inclusive education for all children and youth. We were joined by the following global and youth leaders who are working to ensure the human right to quality, inclusive education for all:
Yasmine Sherif, Director, Education Cannot Wait
Carron Mann, Research and Policy Manager, Malala Fund
Rantia Sabbah, Arab Youth for Education - Arab Coalition for Education
Charie Atilano, E-Net Philippines National Advocacy Council Youth Sector-Asia South
Pacific Association for Basic and Adult Education
Taibat Hussain, Development Research and Projects Center, Nigeria-
UNICEF Generation Unlimited Young People's Action Team
Diana Ayala, Global Partnership for Education Financing 2025 Youth Leader, Council for Adult Education of
Latin America and Latin American Campaign for the Right to Education
Bob Lubega, Executive Director, Rights for Disability Development Foundation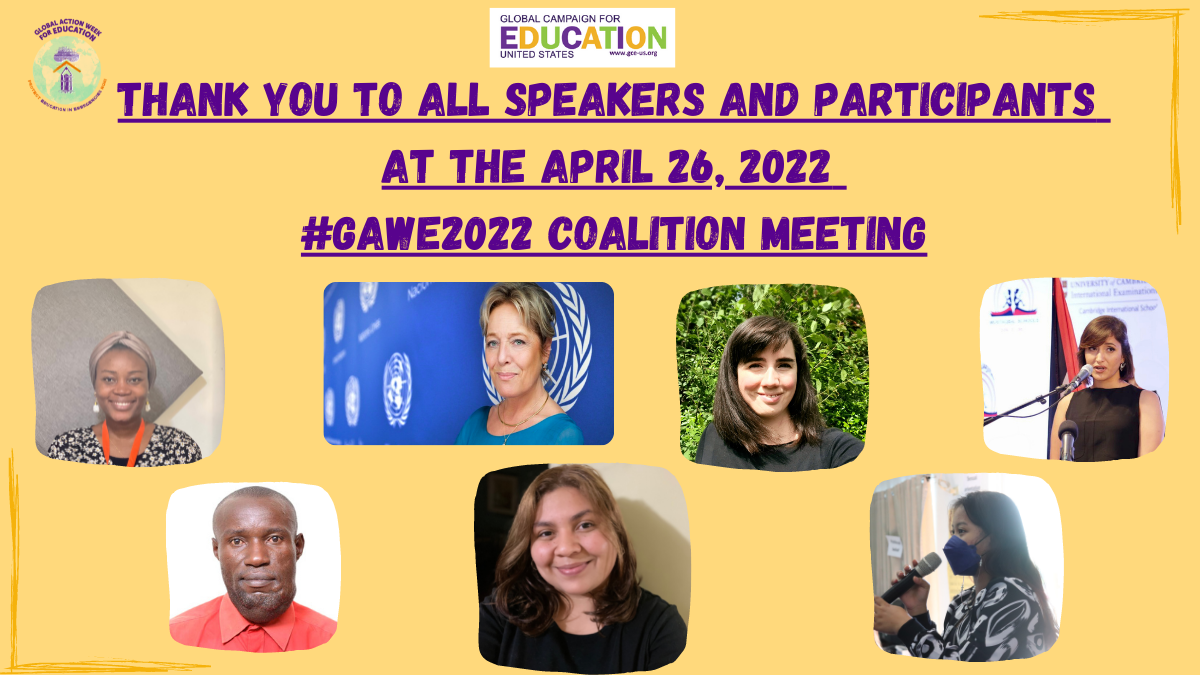 Were you unable to make the Global Action Week for Education Coalition Meeting? We've got you covered!
You can watch the recording of the meeting on our YouTube channel.